Miami, Florida continues to prove itself as not merely a vacation destination for fun in the sun, but as an international city of art, theater and film. When one thinks of Miami, Science Fiction is probably not the first thing that comes to mind, but the city with its corridors of glass buildings, elevated monorails and yacht-filled rivers made for an exciting ultra-modern backdrop for the second annual Miami International Science Fiction Film Festival.
The festival is organized by two scientists appropriately enough, Troy Bernier a geologist from Florida Atlantic University and Dade county's own hydrologist Eric Swain. Swain & Bernier have garnered their own Sci-Fi recognition via their own low-budget science-fiction film lovingly documented in Journey to Planet X (2012) which can be seen on Netflix.
The two day festival held at Miami's Hyatt/James L. Knight Center consisted of close to 24 hours worth of films from all over the world. Thanks to advances in computer graphic imagery, some of the low-budget films had special-effects that George Lucas could only have dreamed of when he first released Star Wars in 1977.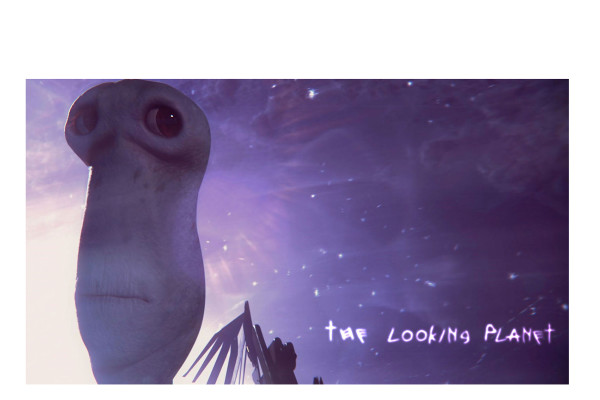 One of those films with blow-you-away visuals was The Looking Planet (2014), a story of an interstellar family of aliens who "engineer" the universe. The CGI was nothing short of Pixar level. Interestingly the "alien" language utilized for The Looking Planet was that of a very real tribe of indigenous people from South America.
The film The Sun Devil and the Princess (2014) with its top-notch, Star Trek level special-effects make-up won "Best Fantasy Film" for its sword & sorcery story of a demonic samurai escorting a princess through a forest full of ninjas, goblins and goblin-ninjas.
All of the films were judged by locals from various walks of life from scientists & professors to actors & directors. Local pseudo-celebrity "Tamerlane" a supposed real life super-villain was in attendance as one of the judges.
Two of the biggest winners of the film fest were Helio (2015) and Morgenrode (2014). Helio is set in a dystopian, Orwellian world of black clad cyber-fascists who employ propulsion boots to jump from roof-top to roof-top in pursuit of enemies of the state. The director and crew were in attendance and were glowing with pride upon receiving the "Audience Favorite" award. Morgenrode (Dawn) is directed by Norwegian writer/director Anders Elsrud Hultgreen who was also in attendance. Hultgreen utilized the barren black volcanic steppes of Iceland to create a mythical, alien environment for his post-apocalyptic looking characters. Morgenrode won the crowning achievement of the festival, "Best Sci-Fi Feature".
The films were not regulated to just science-fiction however, the festival also featured Hyena's Blood a sort of Tarnatino-esque Blow II. This film centered around a DEA agent in Mexico as he assists the locals from segueing from an opium based operation to a cocaine focused criminal enterprise, a perfect film for Miami with its tales of cocaine cowboys and Scarface (1983) & Miami Vice (1984) mythos.
But one can not have a Miami film festival without …CUBANS! The Cuban community was represented by the film Lobo: An Orisha Tale (2014) with its narrative of family and Santeria. Lobo won the award for "Best Supernatural Film". Miami's own Lina Sarrello, writer and director of Lobo was in attendance to receive her award.
Big Hollywood got into the game with its LA Slasher (2015), a clever film about a serial killer who kills reality stars that post on social media. LA Slasher featured Danny Treijo and David Bautista. Keep your eye on Bautista as an up and coming action-star especially after his charismatic take on Marvel Comic's Drax the Destroyer in the film Guardians of the Galaxy (2014).
The high-lights of the festival included lectures by Dean Lyons and Todd Cherniawsky. Lyons, a special-effects master, has worked on such notable films as Armageddon (1998) and the Lord of the Rings (2003) series. When asked about his most favorite project he has worked on he replies with the glint and smile of a proud father:
"The elven village of Rivendale is what I am most proud of and was some of the most difficult and detailed work of the three films."
Cherniawsky gave a very detailed lecture utilizing the festival's giant movie-screen to discuss his work on the films Oblivion (2013) and Avatar (2009) and his top-notch prop and set-design.
The festival was out-of-this-word with its countless quality films and professional productions. Look for the festival next year for co-founder Troy Bernier has stated:
"Wait until next year. It will be even bigger and better!"